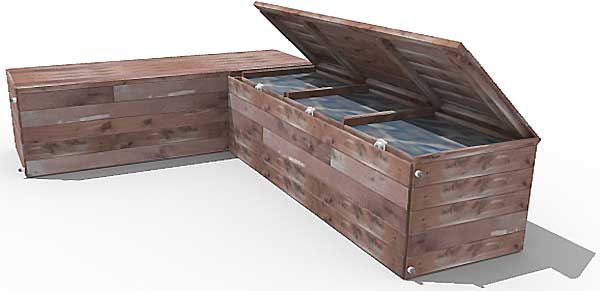 If you could save 600 gallons of rainwater, without one tank or barrel, would you?
Also sans digging up your entire yard to bury a cistern.
You could water your garden for two months without any rainfall.*
*If you own a house with a 25′ x 40′ roof, you can catch 600 gallons from a 1″ rainfall, which happens to be the same amount needed to supply a 10'x10′ garden with 1″ of water per week (the recommended rate), or 10 gallons/day for 60 days, or two months.
Have a seat. And you're halfway there…
Designed by a landscaper just trying to hide rain barrels
300 gallon capacity (per plans)
Step by step, illustrated instructions
A shopping list of lumber to buy locally
DIY or use a local contractor, support your community
8′ long x 3′ wide x 2′ tall, give or take
Can be built to 2 1/2′ tall and hold up to 420 gallons
No, this isn't a graph of your portfolio (but if it looks like this, you already know this stuff)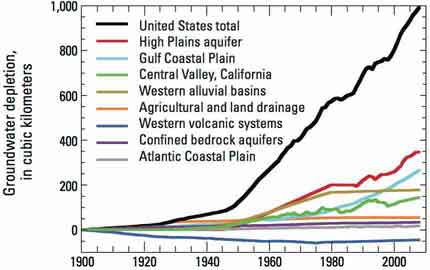 graph courtesy of USGS.gov
It's our unfortunate trajectory of groundwater depletion. As in, our main clean water supply is going in the opposite direction. Time to buy? You may not have millions to invest (like the people who's portfolios look like that graph, but…)
Here's one way (or 3) you can make a smart choice for your water future, because water is an increasingly important part of it.
It's free. (unless it's illegal, then make sure it's well hidden 😉  Did I type that out loud?
It's easy. Once built, it can operate automatically.
Your water utility might pay you to do it.
If your well pump or public supply is lost, you still have water.
It's soft, good for washing and appliances (with some filtration)
It keeps your lakes and rivers cleaner
It helps to recharge your depleting groundwater
Your plants will grow better with rainwater.  A Lot better.
Sienna loves rainwater baths.
Who else is doing this?
Here's just one example (3 minute clip)…
Second Rain's Cedar Rain Bench kits were used on Tiny House Nation, a show that follows renovation experts and hosts John Weisbarth and Zack Giffin as they travel across America to show off ingenious small spaces and the inventive people who live in them.
Check out Tiny House Nation Monday nights at 9PM ET on FYI. The plans used specifically to build the benches for the off grid home in this episode are also included in our DIY kit.
Picture taken in the heat of summer, after this self watering 'rain planter' was watered exactly 0 times
.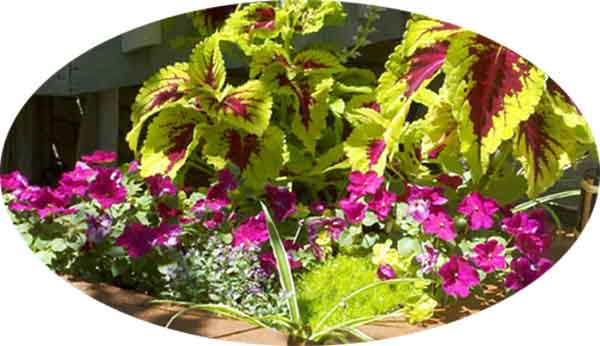 Create rainwater storage AND outdoor living space at the same time. That's huge.
 Well, at least it can be…
How much?
Ok, I get it, but how much should I catch?
Try our rainwater calculator!
We used average water use and rainfall from 250 cities in all 50 states so you can easily find just what your ideal capacity rainwater storage should be. Use it for FREE here:  https://secondrain.com/rainwater-calculator-2-0
Ultimate Rainwater Guide
Coming soon. Our guide to everything you need to know to be awesome
Seriously. It is that good.
Our fully caffeinated collection of ideas, anecdotes, examples and how-to store your rainwater bigger and better than ever. It'll be in our store for about the price of a cup of coffee. Is there a theme here?
Ongoing R&D
We are constantly pushing the envelope of what even we think is possible...
Finding a Better Way
We'll keep you updated with the latest and greatest techniques; if it's remotely experimental, it'll probably show up here first.
Video Tutorials
Nothing is easier than learning by watching someone do it, even if it's Scott.
Tips & Tricks
Watch our video tutorials to learn how the various parts of your rainwater system work together, and prepare to be blown away by a few new ideas.