What are the liners made of?
sgear
2016-12-12T06:29:48+00:00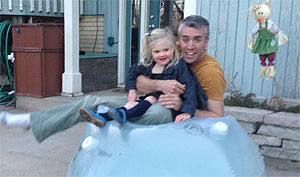 Our FDA approved food-grade liners are 2-ply, 8 mil (4 mil each layer) PE film, form fitted to the shape of the Rain Bench®.  They measure 32″w x 32″l x 32″h and have two fittings welded on with 2″ female PVC thread.  We designed them specifically for the Rain Bench®.  They are manufactured in the USA at an ISO 9001 certified facility.
(Don't try this at home. This was very scientific testing of a liner filled with 140 gallons of water. It passed. Combined pouncing weight: 246 lbs.)