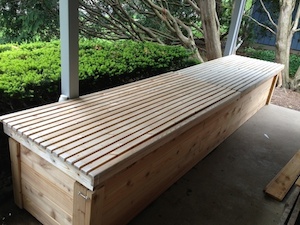 This is not a rain barrel.
It's not just a comfortable bench, either.
It is part of a new breed of low maintenance landscape design elements with the specific intent of taking care of the landscape surrounding it, so you can sit back and enjoy it more. So go ahead, take a load off…
Take a load off your body. Relax, have a seat. You work hard enough.. Go ahead, take that afternoon nap. You deserve it.
…Take a load off your mind. Turn your landscape into a low maintenance landscape by automatically watering thirsty plants for you
…Take a load off your bank account. Knock down your water bill by using rainwater to irrigate, instead of drinking water.