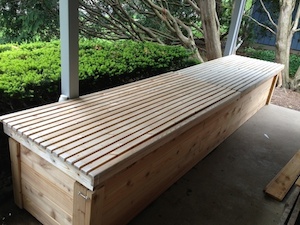 This is not a rain barrel.
It's not just a comfortable bench, either.
It is part of a new breed of low maintenance landscape design elements with the specific intent of taking care of the landscape surrounding it, so you can sit back and enjoy it more. So go ahead, take a load off…
Take a load off your body. Relax, have a seat. You work hard enough.. Go ahead, take that afternoon nap. You deserve it.
…Take a load off your mind. Turn your landscape into a low maintenance landscape by automatically watering thirsty plants for you
…Take a load off your bank account. Knock down your water bill by using rainwater to irrigate, instead of drinking water.
…Take a load off your city's storm sewer, lakes and streams. By reducing runoff each time it rains, you're also doing your part to reduce pollution.
The bench featured above stores 300 gallons and has an extra compartment with this pump and retractable hose reel mounted inside.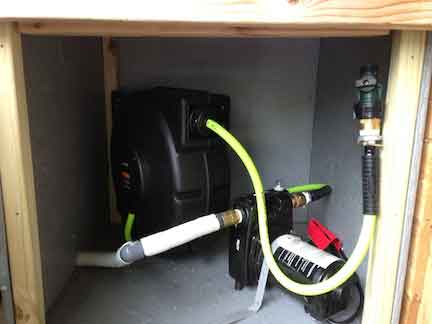 A passion for the environment. An obsession for reducing waste. Mix them together with basic design and you get integrated rainwater harvesting.
This isn't just about building rainwater storage into small, difficult spaces, high visibility areas that aren't ideal for a pile of barrels, or the otherwise empty wasted space which is a generally accepted part of most outdoor living elements.
This is also about probably the #1 most important requirement of Great Landscape Design = Low Maintenance.
"You can't have everything. Where would you put it? "