Finally.  You can get that bench, or outdoor bar, or garden shed, or all 3.   Ok, not for free but it might just be TOTALLY paid for with rebates…
There are a growing number of incentives and rebates now available due to 'Pilot
Programs' that were passed in an effort to get everyone to do as much as possible.
A few of these have the potential to at least partially, if not completely, pay for your next home improvement project, or that landscaping that you were saving up for…
What does this mean?
It means you could get that bar, built-in grill, or pretty much whatever functional, awesome landscape element you can think of now, and depending on where you live, you could get it mostly, if not all, paid for.
If you build it with Rain Bench kits so it holds rainwater inside…
Which isn't really all that hard, considering it is one kit that can be customized to hold up to 140 gallons inside a bench, table, bar, or whatever you can build.
Then just build a few more, lay them out so you can hook them up with easy-to-use fittings (all included in the kit), throw cedar or stone face on the sides and a cap on top and you've got a pretty comfortable rainwater harvesting system, I'd say…
Just so we're clear, here is a very basic price breakdown,
Please NOTE:  This is NOT the cheapest way to go, but the best quality, longest lasting option.  The cheapest way to go would be recycled barrels or building these with scrap lumber and painting them.  Then the cost is Drastically LESS
…first for a basic bench,
1) DIY Rain Bench kit (w/ all fittings) = $89
Cedar lumber, potential is 130 gallons = $150 (varies, buy local)
OR, treated lumber, no cedar = $70
Use DIY directions, build to specs
Total 100 gal cedar bench: $239
or treated: $159
…and for something a lil bigger, about 800 gallons: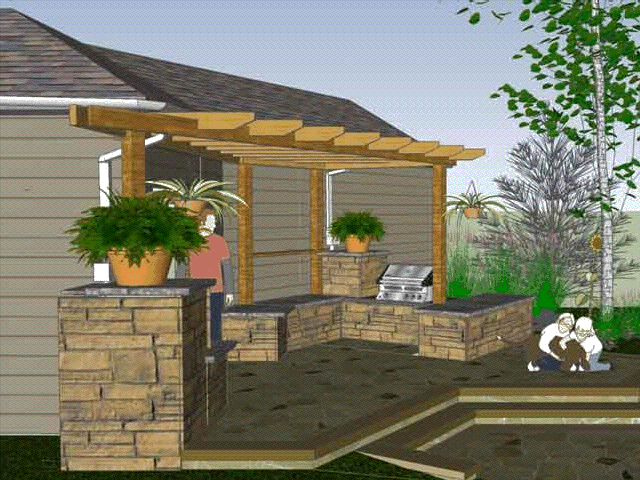 6) Rain Bench liners  = $248
PVC, fittings to connect all together with hose = $150 (or buy DIY kits with all fittings)
1) Diverters – to fill with downspout = $40
Cedar tongue & groove to build walls, treated lumber for base = $1000 (varies, buy local)
Treated (not cedar) framework = $400
Cap with cedar or stone (lighter weight is ideal) = $200 (varies, local)
Total 800 gal cedar/ stone outdoor kitchen:  $2100
or treated lumber:  $1500
A few rebates that will pay for the bench or this sweet landscape (if you live here):