landscape designs, beautiful AND sustainable …
what follows is a plethora of designs incorporating the RainBench DIY kit as a customizable building block, from 40 to 96 gallons each and a variety of different materials…        hang on to your hats!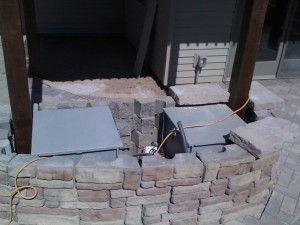 80 gallons, a pump on switch and 25′ retractable hose reel..
The water comes from a downspout on the corner of the house, filtered through our diverter, into 1″ irrigation lines (available at most landscape supply or home garden stores), run under the patio to the bottom of each 'rain blox', filling from the bottom, overflowing into the gardens when full.
(check out the youtube video below for a brief walkthrough of this finished project)
Also see more details of the pump, hose reel configuration in our 'advanced rainwater harvesting' blog.
On  top of reducing runoff, the stored rain can then be used for irrigation.  This can make its owners feel good about it – and not just because it's a great place to hang out.
This project also included night lighting, which was incorporated into the design as seamlessly as the rainwater storage.
what follows is that 'plethora of designs' i was talking about:
Once you realize just how easily these Second Rain DIY bench kits or blox can be customized and connected, you can begin to see the unlimited potential that allows the following designs, and then some…